I'm Just a Person (Paperback)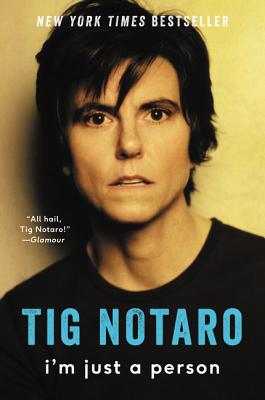 $18.99

Not On Our Shelves Now (Usually Ships in 1-5 Days)
Description
---
"As with the best comedy I'm Just a Person is not just about fighting pain with laughter - it's about love, strength, and the very stuff that makes us human." -- Out Magazine
One of America's most original comedic voices delivers a darkly funny, wryly observed, and emotionally raw account of her year of death, cancer, and epiphany.
In the span of four months in 2012, Tig Notaro was hospitalized for a debilitating intestinal disease called C. diff, her mother unexpectedly died, she went through a breakup, and then she was diagnosed with bilateral breast cancer. Hit with this devastating barrage, Tig took her grief onstage. Days after receiving her cancer diagnosis, she broke new comedic ground, opening an unvarnished set with the words: "Good evening. Hello. I have cancer. How are you? Hi, how are you? Is everybody having a good time? I have cancer." The set went viral instantly and was ultimately released as Tig's sophomore album, Live, which sold one hundred thousand units in just six weeks and was later nominated for a Grammy.
Now, the wildly popular star takes stock of that no good, very bad year—a difficult yet astonishing period in which tragedy turned into absurdity and despair transformed into joy. An inspired combination of the deadpan silliness of her comedy and the open-hearted vulnerability that has emerged in the wake of that dire time, I'm Just a Person is a moving and often hilarious look at this very brave, very funny woman's journey into the darkness and her thrilling return from it.
About the Author
---
Tig Notaro is an American stand-up comic, writer, actor, and radio contributor. She writes, produces, and stars in the semiautobiographical series One Mississippi for Amazon Studios, where she can also be seen in her recurring role on the critically acclaimed series Transparent. In 2015, her HBO stand-up special premiered along with Tig, the Netflix Original Documentary about her life. Tig remains a favorite on Conan and This American Life, tours internationally, and enjoys bird-watching with her wife, Stephanie, and kitten, Fluff, at their home in Los Angeles.
Praise For…
---
"Notaro intermingles laugh-out-loud moments from her childhood with her crazy mother and stepfather and sweet romantic times as an adult. Throughout her brief work, the author is frank, at times humorous, and anything but melodramatic." — Kirkus Reviews
"Notaro's thrilling, candid, and hilarious memoir is a provocative and convincing rallying cry to seize the day." — Booklist
"I'm Just a Person will make you laugh, or cry, or both." — Marie Claire
"This written record of her grief isn't just a retread. It's supplemental, yes, but also transcendental...That's not to say the book isn't funny- there's still plenty of levity, but it frequently gives way to important revelations." — AV Club
"Notaro's story is funny not because it's true (although it is), but because it's told by the world-class stand-up with wit and vulnerability." — O magazine
"Although there are diverting comic touches (most in the ironic vein), the book's chief virtue is Notaro's absolute candor in describing how these devastating setbacks wracked both her body and soul." -Bookpage — BookPage
"As with the best comedy [I'm Just a Person] is not just about fighting pain with laughter - it's about love, strength, and the very stuff that makes us human." — Out Magazine
"Comedian Tig Notaro takes pain and successfully converts it into laughs in I'm Just a Person… It's an intriguing and inspiring look at one woman's way of pressing on." — Bustle
"Anyone who can write a sharply funny-and bravely optimistic-story about losing her mother, going through a break up, and being diagnosed with breast cancer all in the span of four months is an absolute heroine in our book. All hail, Tig Notaro!" — Glamour
"The book is heartbreaking, and brilliant, and funny and everything you are… it's fantastic." — Ellen DeGeneres