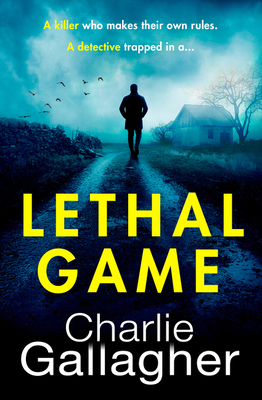 $15.99

Not On Our Shelves Now (Usually Ships in 1-5 Days)
Description
---
'This fast paced, electric thriller races from page to page and keeps you guessing until the very end' NetGalley review ⭐⭐⭐⭐⭐
He knows your name. Where you live. The car you drive.
If you don't play, your family will die. If you lose, you will.
When DI Joel Norris and DS Lucy Rose begin investigating the death of a young woman, murdered on a quiet country lane, they can't imagine what lies ahead.
This killer uses his victims like chess pieces in a life-sized contest, with the highest stakes imaginable.
Now Norris and Rose are pawns at the mercy of a twisted rulebook.
Can they beat him at his own game before the next round begins and more innocent lives are taken?
A totally addictive, edge-of-your-seat, crime-thriller that will leave you breathless. Perfect for fans of Cara Hunter, Ian Rankin and Stuart MacBride.
Readers are gripped by
Lethal Game
:
'Explodes into a nail-biting, breath-holding, scary ride that I loved every minute of ' NetGalley review ⭐⭐⭐⭐⭐
'A fabulous page-turner of a book Full on action from the first chapter, and a fabulous thriller that kept me guessing right up to the very end' NetGalley review ⭐⭐⭐⭐⭐
'A plot like no other, couldn't put it down... So many twists and turns, when you think you have it all worked out it twists again' NetGalley review ⭐⭐⭐⭐⭐
'This is so good Charlie Gallagher writes from experience and it shows... I was completely drawn in the entire way from start to finish' NetGalley review ⭐⭐⭐⭐⭐
'Brilliant... Kept me on the edge of my seat from start to finish. Charlie is one of the best crime writers around' NetGalley review ⭐⭐⭐⭐⭐
'A non-stop thriller that keeps you on the edge of your seat. You will not want to put this one down ' NetGalley review ⭐⭐⭐⭐⭐
'I always make sure my diary is clear for a couple of days before I start one of Charlie Gallagher's books as they never fail to keep you turning the pages until it is finished. Perhaps the best one yet' NetGalley review ⭐⭐⭐⭐⭐
'Strap yourself in for another dark, twisting and deeply unpredictable thriller' NetGalley review ⭐⭐⭐⭐⭐
'Left me on the edge of my seat. A brilliant thriller' NetGalley review ⭐⭐⭐⭐⭐